Our new 3D emulation services specialize in turning two-dimensional home plans, drawings, floorplans, or blueprints into detailed three-dimensional renderings of near-photographic quality, helping clients visualize how a new home or room will look before embarking on expensive building, remodeling, or redecorating projects or buying an off-plan property. Different layouts, surfaces, furniture, landscaping, accents or finish materials can be "seen" and compared to determine what works best for the project or to allow clients to customize and push the design envelope without the risk of not enjoying the finished result.
Depending on needs and budget, we can provide any combination of the following 3D Architectural Rendering Services:
• Interior views
• Exterior views
• Multiple views of rooms (to compare kitchen or bathroom variations, or to visualize an entire house with or without furnishings)
• Landscaping, decks, pool areas and summer kitchens
• Day and night views to try different lighting options including style and color
• Dollhouse-style project views, perfect for determining furniture placement and traffic patterns
Renderings can be customized to include client's own art, fabrics, furnishings, and external site views. We'll be happy to produce a set of images that delivers precisely what you need.
When quoting for affordable 3D Architectural rendering we are experienced in balancing budget with quality, getting the most important elements right to deliver 3D video or drawings you can use to enhance the project without breaking the bank - Take a look at some examples of our high-quality 3D rendering services:
​Get a Free VirtualReality Quote Here
Architects, Designers and Developers, our high-quality 3D renderings take your Professionalism to new heights, elevating your design presentations to a new level and helping you make sales happen. Is there anything better than selling out on a development before you even break ground? Imagine what a difference that makes to Development Funding and a Project's Progress and success…
Whether it's a presentation to a potential client or renderings of floorplans for websites or brochures, taking the extra step of "staging" and creating high-quality renderings is essential to promote your professionalism and enhance sales success. Perception is everything.
Our profession is making You look good — it's what we live for!
We can work from PDFs of CAD or hand-drawn plans and from plans created in Chief Architect or Sketchup. We can add custom landscaping, furnishings, accessories and finishes to your specifications and variable lighting can be added to highlight plan details and show your designs to best advantage. Your ideas can then be transformed into near-photographic presentation-quality renderings that will have potential customers' jaws dropping and make them want to move right in!
For Realtors and Developers, the showing of potential buyers a 3d floorplan of a home they're interested in can really help them envision themselves and their belongings in the space.
Realtors - Vacant property?
We can help sell it fast with "virtual staging" — adding furnishings and decor to photographs or 3d models of empty homes helps them look much more inviting to potential buyers – especially where those buyers may be from different ethnic and cultural backgrounds and may appreciate a different aesthetic, colour scheme or decor. Virtual home staging and remodeling are also useful tools for real estate investors seeking financing. Don't just tell lenders about the increased value your efforts will add to the property — SHOW THEM!!
Augmented Reality Applications
​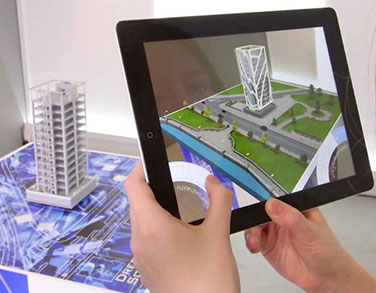 To put it as simply as possible, Augmented Reality (or AR) is when a 3D model of something is projected or overlaid on the physical world. In other words, you can see a high-quality and user-friendly miniature model of any 3D model (real estate property, furniture, external areas) resting on your desk, almost like a holograph.
With augmented reality applications, we can add animations or use it in a way to tell stories and give detailed information about your project. So not only can you visualize the project from a "god's eye" point of view, but you can also create a more intricate presentation for potential investors and really engage your real estate clients or allow for the swapping out of different elements and designs in real time. It's not just an image or a blueprint any more, it's a fully realized project in Augmented Reality!
We Provide solutions for mobile phones, tablets and Microsoft HoloLens. We're also working on solutions for augmented reality glasses Magic Leap and Meta2.
There are many reasons to get your 3D Architectural Visualization Services and Augmented Reality Applications from 2iiS Marketiing Inc. Contact us today and let's discuss how we can help Turn Aspirations into Virtual Reality!